KAT-TUN 10th Aniv Dome Tour
KAT-TUN =Kamenashi Kazuya,Nakamaru Yuichi & Ueda Tatsuya will be held their 10th Anniversary Dome Tour,started by April.
03APR at Nagoya Dome
20APR at Kyocera Dome
30APR at Tokyo Dome
01MAY at Tokyo Dome

FC Event "FANTASTIC BABYS"
BIGBANG FANCLUB EVENT 〜FANTASTIC BABYS 2016〜 start 22APR from Kobe,they have 16 stages at 4 cities in Japan
22APR 19:00 Kobe World Memorial Hall
23APR 14:00&18:00 Kobe W.M. Hall
24APR 13:00 &17:00 Kobe W.M. Hall
27APR 15:00 & 19:00 Mrine Messe Fukuoka
29APR 14:00 &18:00 Gaishi Hall,Nagoya
30APR 13:00 &17:00 Gaishi Hall
01MAY 13:00 Gaishi Hall
14MAY 14:00 &18:00 Makuhari Messe
15MAY 13:00 & 17:00 Makuhari Messe

2pm Arena Tour 2016 "Galaxy of 2pm"
We just started to arrange ticket. Please check our Ticket Prices.
2pm Arena Tour will be started from Gaishi Hall Nagoya on 23APR.Don't miss it! Thanks.
■Bigbang World Tour [MADE] in japan

Bigbang World Tour [MADE] in japan
They added concert at Tokyo Dome on 23 & 24FEB.(⌒-⌒)
23FEB 18:00 at Tokyo Dome
24FEB 18:00 at Tokyo Dome
Please check our BIGBANG New prices .
And Bigbang will be released Japan New Album "MADE SERIES" by 03FEB 2016.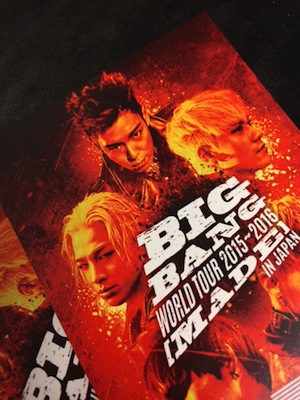 2015 concert ticket

BOB DYLAN Live 2016 Ticket
He has 12stages in Japan on April.
At Tokyo,Yokohama,Osaka,Nagoya & Miyagi.
Dont't miss it.
04/06APR at Orchard Hall,Tokyo
09APR at Electric Hall,Miyagi
11/12APR at Festival Hall,Osaka
15APR at Century Hall,Nagoya
18/19APR at Orchard Hall,Tokyo
25/26APR at Orchard Hall,Tokyo
28APR at Pacifico Yokohama